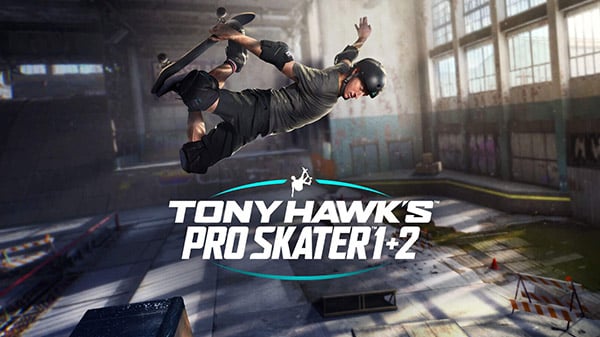 Publisher Activision and developer Vicarious Visions have announced Tony Hawk's Pro Skater 1+2 for PlayStation 4, Xbox One, and PC (Epic Games Store). It will launch on September 4. Pre-orders include access to the "Warehouse" demo.
The standard edition will cost $39.99. The digital deluxe version that includes unique content and in-game gear will cost $49.99. A collector's edition that includes the digital deluxe content and a limited-run Birdhouse deck will also be available for $99.99.
"The original Tony Hawk's Pro Skater series is a big factor in the evolution of modern skateboarding tricks and inspiring many of the pro skaters you know and love today," profession skateboarder Tony Hawk said in a press release. "I'm excited to help inspire a new generation of skateboarders and gamers—and existing fans—to grow the sport even further."
Vicarious Visions studio head Jen Oneal added, "Getting the chance to bring back the original two games which had such a meaningful impact not only on gaming, but on an entire sports genre, has been an epic experience for our team, many of whom worked on the original series. We're taking what you knew and loved from the original games and mixing that with enhanced creative tools which will allow gamers to invent brand new ways to play the game they love. We're confident it will be the ultimate Tony Hawk's Pro Skater experience fans have been asking for."
Here is an overview of the game, via the Activision Blog:
Dropping in on September 4, 2020, Tony Hawk Pro Skater 1 + 2 is set to bring back original levels, pro skaters, tricks, modes, and songs from the iconic soundtrack, as well as amp up the experience with new ways to play including online Multiplayer.
Same Tony, New Tricks
Tony Hawk Pro Skater 1 + 2 will feature the full original roster of pro skaters from the turn of the 21st century. That includes Steve Caballero, Geoff Rowley, Bucky Lasek, Elissa Steamer, Kareem Campbell, Andrew Reynolds, Bob Burnquist, Eric Koston, Rodney Mullen, Jamie Thomas, Rune Glifberg, Chad Muska… and of course, Tony Hawk.
These skaters all come with their own Special Moves—from Geoff Rowley's Darkside Grind to Tony Hawk's legendary 900—and have learned a few new tricks over the past two decades, including the Revert, Lip Tricks, and the Wall Plant, allowing you to pull off incredible combos like never before.
The remaster will also feature all the original levels from the first two games in the franchise, from the Warehouse to The Bullring, as well as many of the songs from the original games to amp you up while you go for that Sick Score. Those levels can be played solo with goals old and new, with a buddy for local co-op, or online with original multiplayer game modes.
All of this will be presented in stunning 4K resolution with updated and enhanced graphics, running at a frame rate crisper than a perfect 50-50 grind: 60 frames per second.
Create-A-Skater and Create-A-Park Return, Revamped
Rather carve up your own park with a skater you created? Create-A-Skater and Create-A-Park are back with some dope features added in.
Create-A-Park will feature a robust editing suite, enabling an incredible level of customization to create the skate park of your wildest imaginations. These parks can be shared online with friends.
After you create a park, why not create yourself—or a friend… or one gnarly looking poser—in Create-A-Skater? With plenty of customization options, including some that feature iconic skating and street brands, you'll be able to express a crazy amount of creativity just in your custom skater alone.
The Limited-Edition Birdhouse Deck
For the ultimate fan, a collector's edition will be available for the suggested retail price of $99.99 in the United States, complete with the digital deluxe content and a limited-run Birdhouse deck.
The deck features the iconic Falcon 2 design, reissued exclusively for the collector's edition. Although the deck is fully skateable, you may not want to hit too many gnarly grinds with it, as it also features a printed autograph from the birdman himself.
Pre-Order Information
Digital Pre-Order Incentive – Those who digitally pre-order Tony Hawk's Pro Skater 1 + 2 will receive access to the Warehouse Demo ahead of the games' official launch. Expect to catch some air in the Warehouse level during the Summer, with an exact date to be announced later.
Physical Pre-Order Bonus – Those who pre-order a physical copy of Tony Hawk's Pro Skater 1 + 2 from select retailers will receive a limited edition gift with purchase, the Tony Hawk Mini Fingerboard, at launch. This gift with purchase is available exclusively at GameStop (in the United States), EB Games (in Canada), and select retailers in LATAM, Europe, and Australia, while supplies last.