The Pokémon Company has come up with a way to incorporate Raid Battles into the Pokémon Trading Card Game, and you can get stuck in straight away.
If you're unaware, Raid Battles traditionally have players teaming up to the battle giant, powerful Pokémon. The feature was introduced in mobile hit Pokémon GO and is also a prominent feature of Pokémon Sword and Shield on Switch.
You can see how it all works in the new trailer above. To get started you'll need four players – who all have two Pokémon cards each – as well as a 'Boss' Pokémon card, a deck of 20 Boss Attack cards, a deck of 5 Cheer cards, four Knock Out counters, a playmat, damage counters, and a coin.
You'll likely have some of these knocking around at home if you're a TCG regular, but if you're new to the game or need extra bits, you can print out these materials on Pokémon's official site. Alternatively, at the same link, you'll also find a 'Digital Raid Battle Assistant' which essentially lets you track how your Raid Battles are going in an online environment.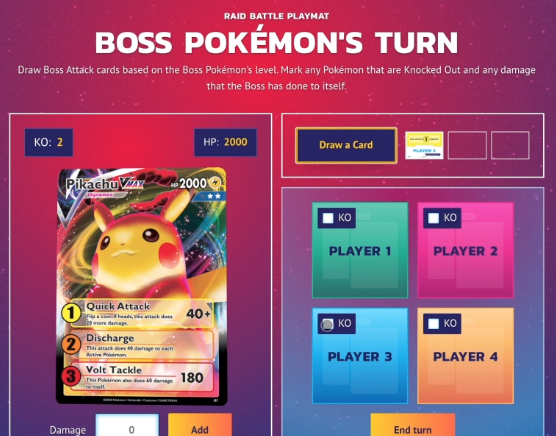 Do you play the Pokémon Trading Card Game? Will you give this new take on the game a go? Tell us below.